Joined

Dec 9, 2007
Messages

1,241
Reaction score

39
Hey guys, figured id finally start a build thread to keep everyone updated on my future mods etc so I dont have to start a new thread every time i do something lol. I dont really have the patience to go step by step on everything Iv done so far. So I will just give a little background story and show where I am right now. So I bought my first X-Runner back in late 2007. Was 2005 RR with 49k on it and was my baby. Got it bone stock and turned it into this with a few subtle touches...
Then in 2009 my urge to go faster took over. So I got rid of the X and got a 92 Mitsubishi 3000GT VR4 (which i still have) But since I got rid of the 05 i always missed it. In November of 2011 I currently had my VR4 and a 87' ae86 as my daily. I went with my mom who has a Land Cruiser to the local dealership to have new tires put on and an alignment done on her truck. While we were waiting I noticed in the lot a lone 2011 jet black X-Runner. Long story short, I couldnt resist and before I knew it was signing papers and driving it home. This is how She started life...
Everyone knows me knows I cant leave anything stock for long. The very next week I found myself digging into a brand new truck and doing some free mods, exhaust, etc. After just over 2 years this is how she sits.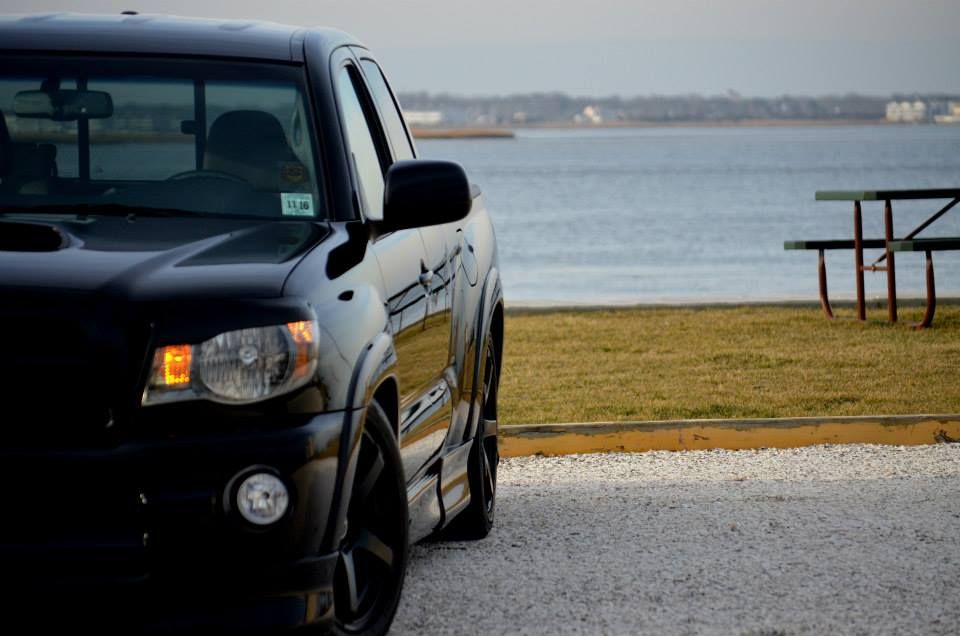 Im always making changes and planning for more mods in the future so stay tuned :top:
Current mods as of 12/31/2013
exterior -
TREX3 angry eyelids
black front emblem
hood scoop mod
daytime running light mod
fog light mod
LED reverse lights
LED license plate lights
tinted tail lights
front plastic piece removed
6k HID headlights
3k HID fog lights
craven speed stubby antenna
"holy **** green" calipers,x-brace and valve covers
Enkei Kojin 18x8.5
DJM 3/4 drop
XII street drop front coils
interior -
Kenwood headunit
TRD short shifter
TRD shift knob
Taco tunes front speaker kit
Kicker comp 12" sub
"holy **** green" steering wheel emblem
black cup holder
black window switch panels
black radio surround
black climate control surround
Whitebeauty LED dome and map lights
performance -
URD intake
URD maf cal
URD y-pipe
URD 3" cat back
URD o2 sims
Doug thorley long tubes
NST crank pulley
rennurx intake manifold spacer
Injen hydro shield filter cover
future mods -
XII sway bar kit
Qa1 shocks
TRD S/C
supporting mods for S/C
Last edited: